Global Youth Abassadors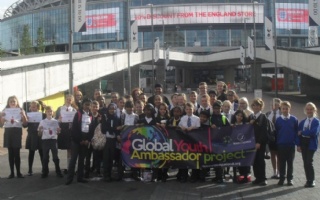 AMS Global Youth Ambassadors visit Wembley
Last Thursday, we went to the world famous Wembley Stadium for a Global Young Ambassadors (GYA) seminar day. We met pupils from other schools around the country who were also GYAs, and there were six schools in total. One school had joined us in our visit to China, with another school visiting soon.
We prepared and undertook a presentation on our visit and experiences in China, where we showed our silk scarves from Tibet and Chinese musical instruments called hulusis (or cucurbit flutes). We made lots of new friends whilst there and it was really interesting to hear where people had been and what they all did. We also had an inspiring tour of the phenomenal Wembley Stadium, where we saw the player's changing rooms and sat in the manager's seats.
Overall it was a brilliant day and we would encourage all pupils to jump at the chance to become a Global Youth Ambassador.
Allenbourn Global Youth Ambassadors