Welcome to the Library
All book groups will start from Monday 27th - anyone who wants to take part should bring their lunch along on that day. No need to register in advance.
Monday - Y5 Book group
Tuesday - Y7&8 Book group
Wednesday - Y8 Writers (invitation only)
Thursday - Y6 Book group
The Student Librarians will be in post from Monday. I will remind them about being punctual for afternoon registration.
Use of Library Chromebooks will follow the same pattern as before Covid, with priority for different year groups:
Monday - Y8
Tuesday - Y7
Wednesday - Y6
Thursday - Y5
Friday - Library closed
All pupils need to check in at the library desk with their barcodes, and if they have an overdue book they won't be allowed on the computers.
Library Web app: go to https://uk.accessit.online/all04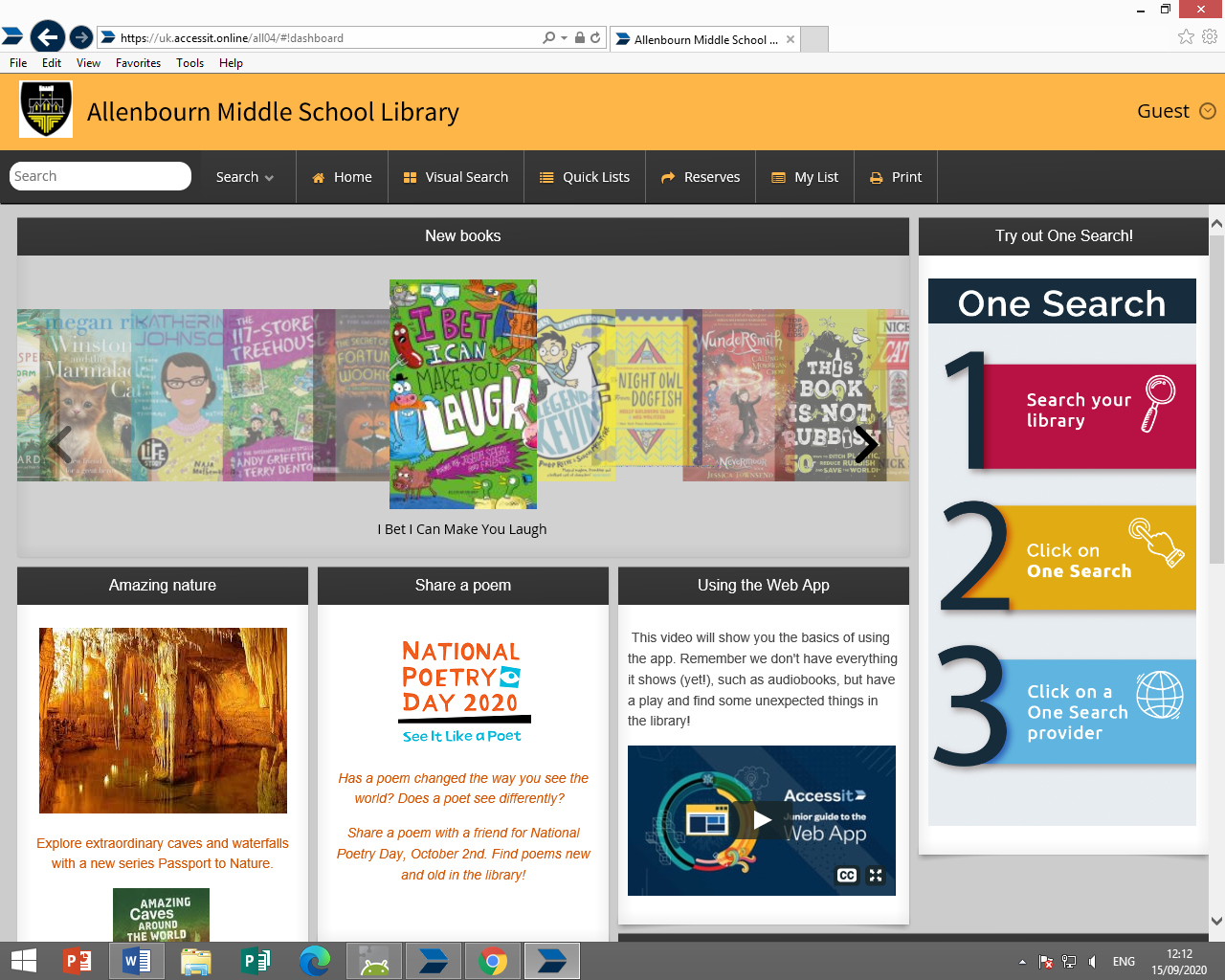 This app is the main way to search the catalogue and choose books, and it's accessible on all platforms (tablets, phones, PCs), so you can easily look at it at home. When you log on as Guest you can see all resources and suggestions lists, but not borrow, reserve or review.
All students will be able to log on using their school gmail address (which Years 6-8 used for Google Classroom during lockdown); Mrs Jensen will be showing them how to use the app, but there is also a how-to video on the app itself.
We are adding ebooks to our library system this term, following a trial in lockdown, and everyone will be shown how to borrow them. A reminder: students may bring their own ereader (not phone) in to school, but it is their responsibility to keep it safe.
The app will have news about new books, events like National Poetry Day, and links to websites.
Recommendations and 'wild card' requests
As well as regular visits to English classes in their rooms, we be using Google Classroom to keep in touch. Students can send recommendations and requests, and there will also be a 'wild card' request form, if they want Mrs Jensen to choose something new and different for them.
Accelerated Reader
All years are now following the AR programme, and the library catalogue shows each book's level. However, it is important that students choose a book that they will enjoy, and if in doubt they can discuss their choices with their teacher or Mrs Jensen.
Book Groups and Student Librarians
The book groups for all Year groups will continue at lunchtimes, but at the moment we still need to work out how they will take place. Our keen Student Librarians will work with Mrs Jensen to find out how they can best champion the library in our new circumstances.
Allenbourn is a member of the School Libraries Association and supports the Great School Libraries campaign https://www.greatschoollibraries.org.uk/ : 'Every child deserves a great school library!'